Disclaimer: I don't own any of the characters and they don't represent real-life events. Copyright reserved for this story.
Title: Broken Liaisons
1st Chapter - 2nd Chapter - 3rd Chapter - 4th Chapter - 5th Chapter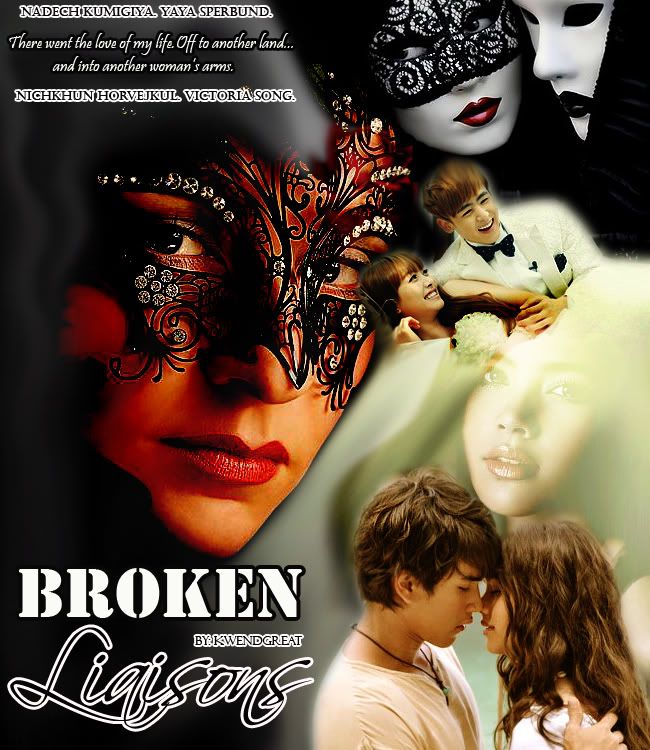 Summary
Yaya and Nickhun have braved each and every hurdle of their relationship for almost seven years now. It was not until Pathtrapat Horvejkul announced Nickhun's ascendancy to the mafia throne that they had to reevaluate where their relationship is headed.

She didn't have much of a choice. He didn't give her any. On his 28th birthday, he left her with a long goodnight kiss and a promise of forever. In the midst of her waiting, the love of her life went off to another land and into another woman's arms.

As her world crumbles down, one man has stood beside her. But is Nadech's obedience to his job enough to ease her mending heart? Is she only using him as planned or has she already fallen for his brooding charm?

Characters

Yaya Sperbund: Yaya has lived a sheltered life, where everything she wants, she gets. She and Nickhun started going out since highschool but developed a passionate relationship a few years later. Her life revolved around him. Only Nickhun mattered to her. Everything went on a whiplash the day he said farewell. Drinking her way to sanity, Yaya took matters into her own hands.
While restoring from her madness, she will find comfort in her brooding and secretive private security agent, Nadech. A runaway daughter in a rundown province, she'll be. Living with Nadech will prove to be easy as breathing for her that she may never want to come back home anymore.
Nadech Kumigiya: The Kumigiya's are the official family security personnel of the Sperbund's, one of the biggest jewelry manufacturers and suppliers in Asia. Due to the early retirement of his father, he has been tasked to supply the necessary aid in protecting the youngest in the Sperbund's line, Urssaya Sperbund. Putting others before him has always been Nadech's thing; hence, babysitting the spoiled princess isn't challenging.
There's one strain to the situation, though: he will have to remind himself about their agreement. He has never taken credit for something he didn't do nor has he ever claimed what's not his. Yaya is clearly not his but he is up for the taking.
Nickhun Horvejkul : Nickhun, Pathtrapat Horvejkul's only legitimate son and the sole heir to the clan's throne, was more than reluctant to accept his fate. Being the quintessential nice guy that he really is, he will decline the position and hide somewhere far from his father and his deadly minions; leaving his girlfriend, Yaya, with a promise of returning.
In the heart of Mainland China, he will meet a feisty lovely girl whom locals call Victoria and fall head over heels for her. Everything will be all too perfect until he discovers her true identity. Contempt will sprawl throughout his system. Love will suddenly be replaced by vengeance. And what better way to take revenge on two people who orchestrated his life than to marry the paid clan recruit, right?
Victorial Song: Red Lily to Pathtrapat and Victoria to many. Living a double life has never been difficult for her. But when she was handed with the mission to care for the strayed son of her boss, she rejected it outright, thinking it's pretty outrageous to tend to the needs of a grown man. Instead, Pathtrapat coerced her into becoming Nickhun's spy.
Protecting Nickhun will have to be the easiest mission she has have until she and the clan's heir have an alcoholic frenzy. The morning after, she will be bearing Horvejkul in her legal name and wearing a 1.5 million dollar diamond ring on her right finger.
Music
Use Somebody by Kings of Leon >>
Sweet Disposition by The Temper Trap >>
The One that Got Away by Katy Perry >>
-------------------------------------------------------------------

A/N: Cleary this is my first attempt to write a fictional story with Thailand artists as I am just new to this Thailand entertainment and Lakorn craze.
I've worked hard in coming up with a good plot and I hope you enjoy this story! Please send me your love.

I highly suggest that you look up the official songs while reading the chapters. Thanks! I'll be waiting for your opinion, guys. *hugs and kisses*