4minute (Korean: 포미닛) is a South Korean girl group created by
JYP Entertainment's sister label Cube Entertainment.
4minute was announced in May 2009. On June 15, 2009, their
debut single "Hot Issue" was released along with another teaser
video and the profiles for each group member. Within hours of the
song release, it quickly climbed onto top five within various digital
music charts. 4minute had their debut performances on June 18-21
with "Hot Issue" on Mnet M!Countdown, KBS Music bank, MBC Music Core
and SBS Popular Music show. They won the digital music award
"Rookie Of The Month" for June and August.
● Birth name: Nam Ji Hyun (Korean: 남지현)
● Position: Leader, Vocalist
● Date of birth: January 9, 1990 (age 19)
-
Group Position : Leader, Vocal
DOB January 9, 1990
Nicknames : Innocent - Lovely Jihyun, 4-D Jihyun, Namjiji (trashy?), Namji / NamG / NamGee, Namdakyu / Namdocu, Nam Hyori
Height / Weight / Blood Type : 167cm / 49kg / A
Specialty : Dancing, Ballet, English
Debut : : in 4minute with the single "Hot Issue", 2009
Previous Works : -
Hobbies : Just dance, cooking
Is a fan of : Rain, Kim Yeona, Audrey Hepburn
Education ; Sangmyeong University, Dance Department (Major in Ballet, leave of absence)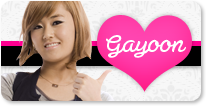 ● Birth name: Heo Ga Yoon (Korean: 허가윤)
● Position: Lead Vocalist
● Date of birth: May 18, 1990 (age 19)
-
Group Position : Lead Vocal
DOB : May 18th, 1990
Nicknames : Dodosick (Arrogant-"Sick") Gayoon, Neunggeuli (Sneaky) Gayoon (because of her facial expressions in some pictures), Gayoonit, Cube uljjang, Heophrodite, Gangnam Woman, Heo Force
Height / Weight / Blood Type : 165 cm / 47 kg / O
Specialty : Singing
Debut: in 4minute with the single "Hot Issue", 2009
Previous Works : - appeared in Marios MV "Im Yours", 2008
- sang chours for MC Mongs "Ninth Cloud", 2008
Hobbies : Watching movies, writing lyrics
Is a fan of : Yangpa, Lee Hyori, Bae Youngjun
Education : Dong Deok Female High School (graduated)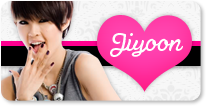 ● Birth name: Jeon Ji Yoon (Korean: 전지윤)
● Position: Lead Vocalist, Sub Rapper
● Date of birth: October 15, 1990 (age 18)
-
Group Position : Vocals
DOB : October 15, 1990
Nicknames : Charisma Jiyoon, Teol teol (Easy-going) Jiyoon, Junglass, Jiyoonit
Height / Weight / Blood Type : 165 cm / 47 kg / B
Specialty : Singing, Dancing
Debut: in 4minute with the single "Hot Issue", 2009
Previous Works : -
Hobbies : Cooking, writing lyrics
Is a fan of : Beyonc
Education : Byeongjeom High School (graduated)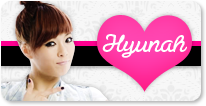 ● Birth name: Kim Hyun Ah (Korean: 김현아)
● Date of birth: June 6, 1992 (age 17)
● Position: Main Rapper, Sub Vocalist
-
Group Position : Rapper
DOB : June 6, 1992
Nicknames : Kim Force HyunAh, "Best Aegyo" HyunAh (acting cute), 키며나 / 김효나 (Kimyeona/ Kim Hyona misheard versions of her name)
Height / Weight / Blood Type : 164 cm / 40 kg / O
Specialty : Rapping, Poppin, Street dancing, Singing
Debut : in Wonder Girls with the single "Irony", 2007
Previous Works : -featured in MTV Wonder Girls Season 1 (~late 2006 / 2007)
- featured in Wonder Girls debut mini-album "The Wonder Begins", 2007
- featured in MTV Wonder Girls Season 2, 2007
- featured in a Crown CF, 2007
- co-Mced MBC Music Core, 2007
- appeared in MBC show "7 Octave", 2007
- featured in Cyon Bboy Championship CF, 2008
- featured in TBJs campaign Love Actually, 2009
- featured in AJs track "2009", 2009
- featured in AJs MV "Dancing Shoes", 2009
Hobbies : Cooking, customing clothes, watching movies, doing Selcas (self cameras)
Education : Korea High School of Music and Arts (currently attending)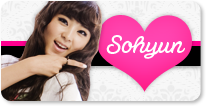 ● Birth name: Kwon So Hyun (Korean: 권소현)
● Position: Vocalist
● Date of birth: August 30, 1994 (age 15)
-
Group Position : Maknae, Vocals
DOB : August 30, 1994
Nicknames : Cute Sohyun, 꿘쏘 (Kkweon Sso), 왕언니 (Wangeonni) Sohyun, Imp
Height / Weight / Blood Type : 162 cm / 45 kg / B
Specialty: Dancing, Studying, Japanese
Debut : in Orange with the single "Our Star", 2005
Previous Works : - appeared in MBC Drama "대장금" (Jewel in the Palace / Great Jang Geum)
- appeared in SBS Drama "장길산" (Jang Gil San), 2003
- appeared in KBS show "울라불라 블루짱" ( Woolla Boolla Blue Jjang), 2004
- appeared in SBS Drama "파리의 연인" (Lovers in Paris / Des amoureux Paris / My Sweetheart in Paris / Romance in Paris), 2004
- appeared in the movie "연애술사" (Love Predicative), 2005
- featured in Orange debut single "Our Star" single, 2005
- appeared in MBC Drama "단팥빵" (Sweet Buns), 2005
Hobbies : Pool
Is a fan of : Ciara
Education : Pungmoon girls' highschool (currently attending)
Join the 4MINUTE BOARD
http://www.4-minute.com/forums/