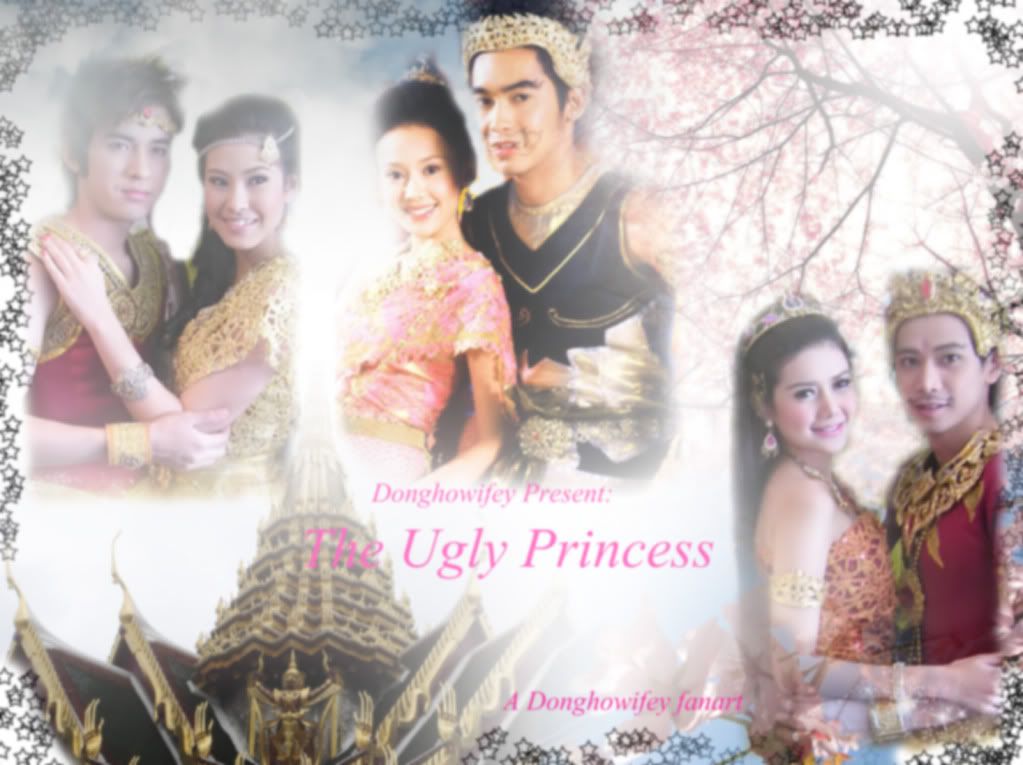 Foreword
This is my first attempt to right a Boran story. I'm not that great, so please bear with me. This is original and 100% mine. However, I do not own these actor or actresses. This is based on my own imagination. If things are similar to other stories you read, I guarantee you its coincidental. Can you believe it? I dreamt this story. Lol. This is copyright by me. So please enjoy the story.
Main Cast: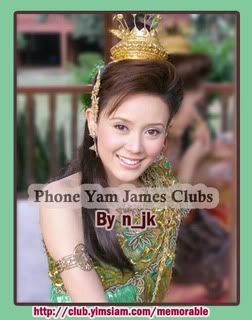 Yam Runganda- as Princess Chanreathrey
Princess Chanreathrey is the youngest daughter of King Vayranon and Queen Chansoda. Chanreathrey was born differently than other children. She was born at night when the moon shined brightly, when she was born she was beautiful and bright, the moon shine brightly into the bed chamber hitting directly at the new born princess. They thought she was gods given, but they became unsure. By daylight the princess became hideously dark, ugly beyond approachable that the king commanded the princess to be locked away. However, she doesn't sulk around and feel sorry for herself, she a stubborn princess who likes escaping outside the palace wall. Because of being trapped all day in her bed chamber, to kill time while being confined, the princess mastered the art of sword technique and would use it if she was in trouble during her escapade.
Phone Katawut- as Prince Akanee
Prince Akanee is the second son of King Asora. He is a full blood Yek (Giant), who goes against his nature and eats cooked animal meat and fruits instead of raw meat whether it's from human or animal. He loves the outdoor and hates being confined in one place. Tends to scare people whether he wants to or not. He doesn't want to fall in love, he likes being a single person. He believes that if he was to settle down his life would really be over, trapped and bored. He enjoys looking at beautiful woman and would waste all day doing so. For him, life is fun. He loves his 2 brothers dearly even if they all have different mother.
Supporting Actress and Actors:
Aom Pratamaporn- as Princess Chanreaksmey
Princess Chanreaksmey is the eldest daughter of King Vayranon and Queen Chansoda. Born in the bright daylight the princess was beautiful, whether it is day or night. She is beautiful as well as kind. She loves her sister whether her sister was born differently or not. She doesn't agree with her father to lock away her sister until night come. Nor does she agree with her mother who timidly follows her father every word. Vow to never marry unless her sister does. She is stubborn and her parents know how well their daughter is, how can they let their youngest daughter marry when she is so different from other?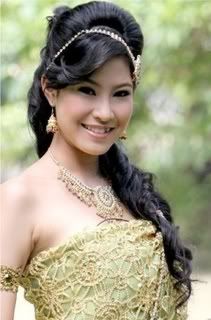 Mild Tarntara- as Pkakale
Pkakale is a beautiful talking flower which blooms in Pra Mae's (the God's Wife, mother to all Goddess) garden. Pkakale is a beautiful and honest follow. Pra Mae adores this flower very much. She later turns into a beautiful goddess who lives in that beautiful flower.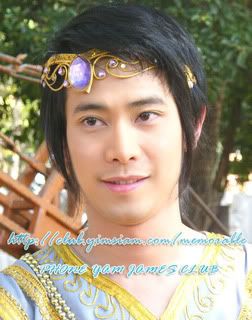 James Loeson- as Prince Attithep
Prince Attithep is the eldest son of King Asora. He's half Thep (Angel) and Yek (Giant), he is a Thep because of his mother, who is one of the goddess in heaven, and however, if he wishes to transform into a Yek, he can. He's loves his brother even if they all have different mother. He tends to try and guide them through the right path. They always have each other back. Attithep hates the fact his father always tries to make them eat human. Because he is a Thep he looks nothing like a Yek, he takes after his mother. Unlike his second brother, Attithep do wish to settle down, but fact is he hasn't found the right girl. However, they do share the same love for the outdoors. He's stubborn and well respected.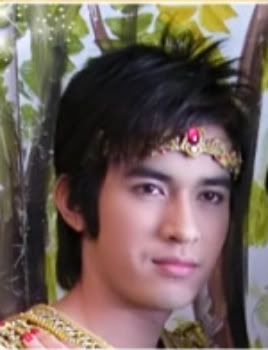 Fuse Kitiwong- as Prince Anapoup
Prince Anapoup is the youngest son of King Asora, because his mother is a human, Anapoup is half human and half Yek. Like his eldest brother, he does not take after his father but his mother he looks nothing like a Yek but looks straight like a human. However, he can transform into a Yek if he wishes too. Even knowing that his youngest son is half human, Asora still wants his son to eat human. Anapoup is very much like his second brother, he doesn't like to be shackle down, but he loves to look at woman. He too loves the outdoor life. He is lively and loves to contradict his brothers. Knowing their different doesn't change the fact that he loves his brother dearly.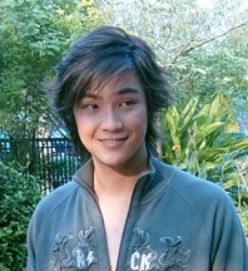 Tar Pasin as-Tunakarn
A young boy whom Princess Chanreathrey saved during her escapade, he vow to follow and be loyal to the princess at all cost, despite knowing the princess condition his heart would not change. He becomes the princess most value soldier and trusted friend.
Minor:
Ton Woranan- as King Vayranon
The ruler of the kingdom Lomveasai, a kingdom full of prosperity, with thousands of surf who are loyal and hardworking, Villages all over the kingdom. King Vayranon is man with great power. He does not like the look down upon. He is a king who is always ready to do battle. He was a great king, but a very poor ideal father.
Cartoon as- Queen Chansoda
Queen Chansoda is a timid woman who listen to her husband every command. She is kind and very heartwarming to be around. Her only flaw is listening too much to her husband. She is the queen in the kingdom of Lomveasai.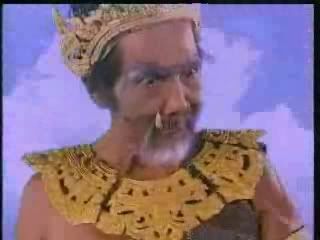 King Asora- A Yek who rules the kingdom of Chrakborey, he who eats on human and animal flesh, he has 3 handsome sons, all from 3 different wives, the eldest is half Thep, the second is full Yek, and the last is half human. He's loves all three son and tries his hardest to make them understand. He eats human without letting his children know. According to him, he's not scared of what his children might say he just doesn't want his children to get their feelings hurt.

Amat Pongsak- the loyal servant of the 3 princes of king Asora. Follow them everywhere on their adventures. He tends to whine when things get out of hand.

Omvary- Chanreaksmey loyal maid loves to tell the princess from right and wrong. Usually gets scold by other.

Preeya- Chanreaksmey loyal maid, who loves to contradict Omvary, she tends to whine when the princess does things that usually leads to trouble.

Paranee- Chanreathrey loyal maid, sad about the princess imprisonment, and does everything to please her princess.

Pranee- Chanreathrey loyal maid, she is also sad about the princess imprisonment, but tends to whine to the princess why she always like dangerous adventure.

​


Synopsis:

In the land where fantasy exists, in world of mermaids, giants, gods and goddesses, demons and devil, not to mention ghouls and other mystical creature, there was a beautiful woman who was given the name Thep Reathrey; she lives up in the high heaven as a goddess. She was beautiful as well as wise. However, because of her beauty that no one can ever compare, she was confined to one place and that place was at the Pra Mae's court, where she is to serve the Pra Mae at all times. Because of her unnatural beauty, God and Pra Mae believe she would cost a big disruption in heaven. So therefore she can never leave Pra Mae's holding. One day while she was gazing at the beautiful garden and beautiful butterfly appeared before her, she was captivated by its rare color that she wondered off following the butterfly out of Pra Mae's garden and headed toward the heaven's court. And thus, as God and Pra Mae had predicted, Thep Reathrey did cause a whole lot of disruptions. Male Thep fought for her attention, shouts and fights, destroying the palaces that laid at peace atop the clouds, were heard throughout the high heaven and this made God very angry. He did not expect to see heaven in such chaos. He was already having headaches because down on earth, a royal couple who were wishing for children once again; it was the same couple who had asked him a year ago which he had already blessed them a child, one of Pra Mae's goddesses. But it seems that they are not satisfied with just one, all that headache, and now this? He was angry alright. He summon the Thep to attend a meeting, he will sort all this out even if his head exploded.
"What is the meaning of all this commotion?" he asked his right hand man.
"Sire, I believe that the problem is happening because of Thep Reathrey." He answered God.
God then summon Thep Reathrey before him, and before he starts to question her he asked the others that were involved, including the other woman who stands as witnesses.
"Thep Reathrey violated the heavens rule that was laid before her by starting the fight between these men sire, as we all know, Thep Reathrey was never to show her face to the male Thep, due to her gifted beauty. But she violated that and showed them her face anyway." One of the women explained to him.
Thep Reathrey knew she had done wrong, but she would defend herself regardless if she was right or wrong, "Sire, I do not understand why I must stay in one place, while all the other women is allowed to roam about. I do not believe this is fair. If my beauty is the cost of all this, then why were I bless with it? Why can I not have a normal face so that I can roam freely?" she asked. She did not mean to be rude or ungrateful, but she did not like being the most beautiful woman, there were too many sacrifices, and freedom was one of them.
God was not pleased with her remark, he did not gift her with beauty, and he too, has another superior who is higher than himself. Like every Thep, he too follows order. But one thing is for sure, every Thep have at least one thing better than another, and hers were beauty. And like every Thep, whether you like it or not, it is your fate. You have to except it.
"Thep Reathrey, whether what your reason maybe, you are still going to be punish because you had fail to follow the rules that was laid before you. Are you ready to except it?" God asked her.
"If fate had already decided my path, then I shall except." She said gracefully.
"Your punishment is to reborn in the middle world, the human world. Where you will be born as a princess, but because you are ungrateful for your beauty and not only that, you caused disruption in heaven, causing the other Thep to fight leading to destroying my kingdom. You will be cursed. Unlike the other human, you will be different. By night only when the moon shines bright, you will be beautiful, the beauty that you have right now for I cannot change that. But by day when the sun shines every day, you will be ugly, where people will be disgusted with you, hate and ridicule you. However because of all your good deeds that you have saved up all your life as a Thep, this curse is curable, when you find the man you love and he loves you back in return, then may the curse be broken. But he must love you because of your hideous form not because of your beauty. This is your punishment. Do you except?" God asked her then.
"If this is the punishment you have bestowed upon me, then I will gladly accept it." She answered him.
"Then you may go."
Thep Reathrey then turn into a ball of light that shine brightly in the heaven's court she then floated down, down from the sky she went, to the kingdom of Lomveasai, the land of prosperity, the kingdom of much wealth. The ball of light carried off to Queen Chansoda bed chamber. Where the Queen lay asleep peacefully with her beloved king, the ball of light went inside of the sleeping queen and settled peacefully in the Queens womb. Waiting patiently to take on her duty as a human…


©No Copyright 2009