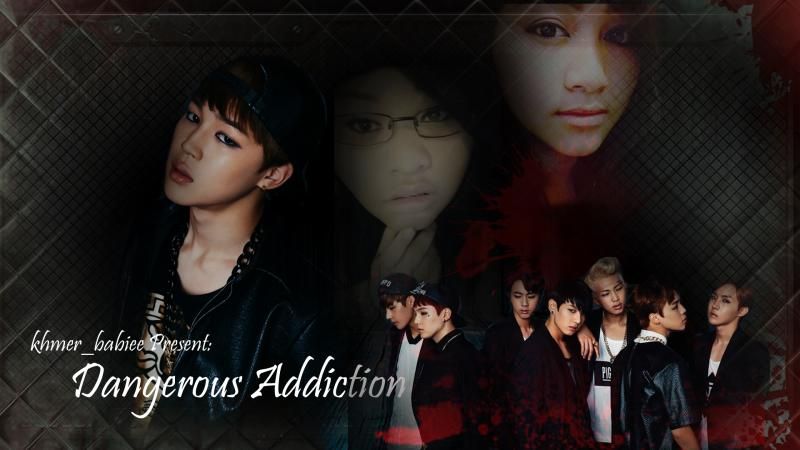 Synopsis:

It started out as a minor crush, a mindless dream, I didn't know it could become a reality. The way he touches me, the way he does things with my body. Feels like ecstasy, a mind blowing feeling of happiness that you can't get away from. Knowing that it's bad for you, you still try to get close...like a dose of heroine. It makes you happy, feel like your on top of the world. However, in reality it could use you, own you, and kill you. You could only describe it as a dangerous addiction...





You're body is mine... his hand holding my breast so roughly in his grasp. His voice a sensual whisper. Pulling me into his lap, I was so lost in his embrace.

My breath hitched as his free hand roam down my body and slipped under my skirt, touching me in the most intimate of place. His finger prodding my flesh finding that spot I never knew existed. I gasped.

You like that don't you? You like when I finger you like this...don't you? He whispered against my ears. His breath so hot against my skin.

Please... I didn't know what I was asking for, I just knew that I wanted it...I wanted it bad.

Park Jimin....what are doing to me...
Main Characters:
Han Sooyeon (Tina) (16)
Han Sooyeon or mostly known as Tina, is the daughter of the multimillionaire of InStyleK, one of the biggest fashion entertainment in South Korea. However judging from her everyday attire it doesn't look so. Tina is a very isolated person. She doesn't care much for fashion like her parents and older sister, she's a self-proclaim geek, she hates her body and find it deform for some reason. She hides it underneath her oversize sweater. She's very gullible, she's extremely nice, and she hates confrontation.
Park Jimin (17)
Park Jimin is a self-proclaim bad boy of BTS, unlike the rest, Jimin loves to play with women, and he loves to see how long it takes women to put out. He's extremely confident, he's selfish, and a total prankster. He doesn't really care if he hurts anyone feeling. He loves a challenge, he loves to win.
Characters:
Shin Sungchan (16)
Shin Sungchan who goes by the name of Sandy, is Tina best friend. They grew up together because their parents are best friends as well. Sandy is the daughter of one of the multimillionaire of StarInsight, a millionaire business that is worldwide. Its a Star search company that finds talents around the world. Sandy is the only daughter, Sandy is a smart girl, bright, and most definite street smart, who looks after Tina who is the total opposite.
Han Taerin (18)
Han Taerin is Tina older sister, she's extremely difficult to deal with. She gets jealous easily. She hates Tina, because their parents favors her more. She is the one of the most popular girl in school. She is currently dating Namjoon who is the leader of BTS.
Kim Seulgi (17)
Seulgi who likes to be called Lisa, is Namjoon sister. She a very sharp person. She hates girls like Taerin. She can't stand her brother relationship and thinks he could do better. Seulgi likes Taerin little sister Tina because she innocent and it makes her feel like she could teach the girl some confident. 
Kim Namjoon (18)
He's the leader of BTS, he not hard to deal with, he's currently dating Taerin, it isn't a love match, and he's only dating her for the money. Business is more important than anything else to him.
Kim Seokjin (19)
He's the oldest but lacks leadership. Jin likes to do things his ways, where it doesn't always involve the others. His motto is do what you got to do to survive.
Min Yoongi (18)
Yoongi likes to be called Suga for girl purposes. He's a lovable guy who don't really care much for anything but women. He does his job, but women is much more important than anything to him. He loves to live in the moment.
Jung Hoseok (17)
Hoseok is an all-around fun guy. He loves women whether they're young or old. He loves teasing Sandy. He knows sandy since she was in middle school, met her through his parents. From then on they've been trying to get them hook up. Sandy has no feelings for him. But he still try anyways because he finds her cute even when she's pissed.
Kim Taehyung (16)
He's a guy who can be extremely cute and random. He loves his fan club and the girls that runs it. He doesn't really like working but their already in to deep and can't pull themselves out.
Jeon Jungkook (16)
The youngest of the group, he don't really much care for anything beside his jobs. Women, old or young through themselves at him constantly.