I like this one dude, Vince... not so sure though...
About Vince... When I see him I get all hyped up and happy that he was coming... When he comes close to my locker during passing period, I wanna say something, but I don't have the guts... But certain times, when he has his rude moments to me, I just wanna slap him in the face... but when he is nice to me, that feeling comes back. I am not sure if i like him or not. He is very nice to me, but he changed a little this year. he used to come by my locker everyday last year year just to bother me, ask me to do his HW, or just for fun. Those time made me have more feelings for him. What should I do next? Tell him, or leave it? And as we were talking on FaceBook IM CHAT, some of the words made me confuse for a moment. Of course alot of times words online cannot be told the truth!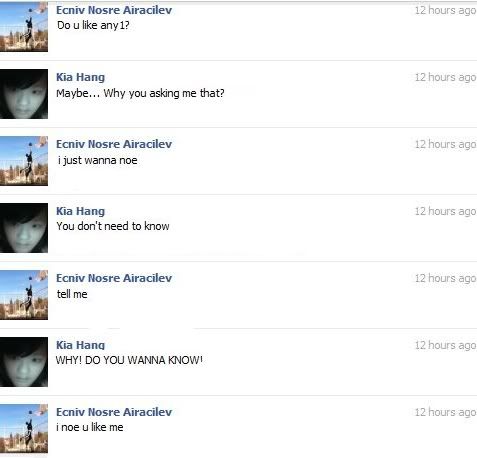 This is bad quality, dunno why.

i also don't want to tell my friends because i have a feeling she still likes him too... She knew him longer, and liked him for a long time... I don't like hurting her feelings!(All though she hurts mine all the time)