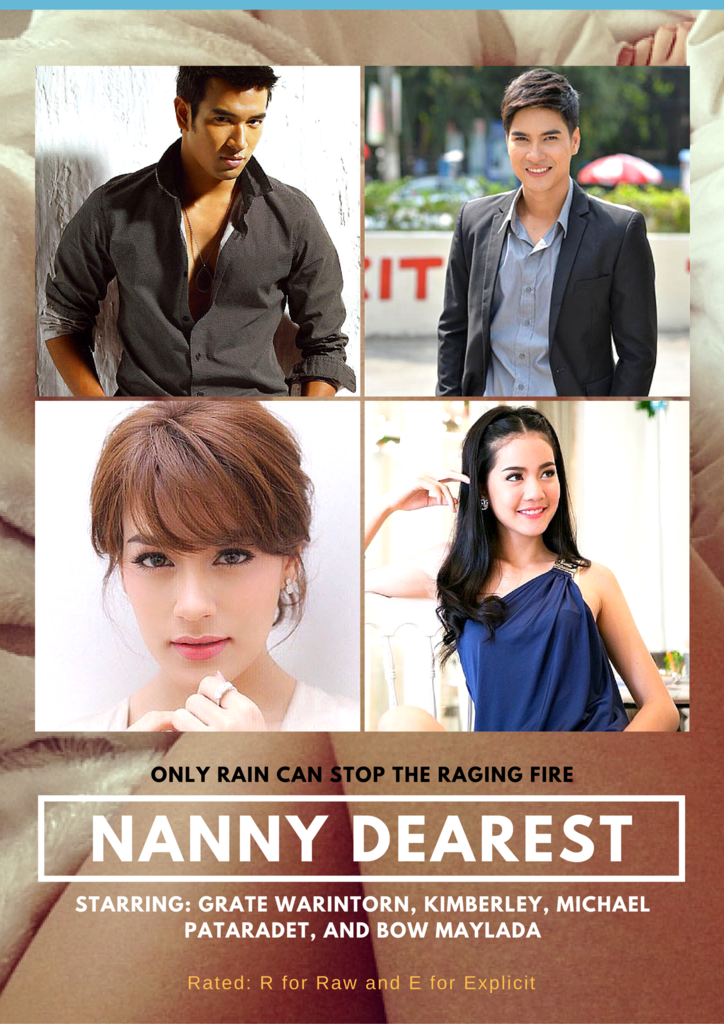 Michael Pataradet as Tan Chai Nareupat Ghitisakyotin (Pat)​
Nareupat or Pat was born into a noble family. His family status commands respect, loyalty, and power. The entie country knows Pat as a playboy heir. Everywhere he walks, there is bound to be a trail of heartbreak and women who throw themselves at him. His life is turned upside down when Parima walks into his office in tow with a baby. Pat impulsively accepts the child as his, knowing wholeheartedly it is impossible. He invites Parima to live with him pending DNA results of baby Areeya. To his surprise, his mother and grandmother who despise all women in his life, comes to love Parima. They give her a complete makeover and turn her into a girl worthy of nobility. Prior to her makeover, Pat saw her as nothing more than a common girl. However, with her new look she is another conquest he wishes to conquer. However, this poor simple girl isn't easy like the women in his high society circle.
​
Bow Maylada as Parina Maneekun (Rina)​
Rina was entrusted to care for her best friend's daughter when her best friend passed away. As her friends dying wish, Rina finds the baby's father. She finds herself in a awkward situation when he asks her to move in with him. Her journey to understand this man society labels as a casanova is nothing short of a rollercoaster. She finds herself willing to submit to his every desire knowing she could get burned. The day will eventually come when she has to move on with her life and leave baby Areeya to her father, and on top of that leave the man she so readily handed her heart to. When the day comes, would she be able to do it?
​
Grate Warintorn as Gritsakarn Burmthep (Grit)​
Everyone see's Grit as a carefree bachelor. He openly flirts with any women he deems beautiful, but his heart has always remained with one woman. Maybe years ago Grit made the mistake of hurting the woman he loved. His heart continues to long for her, but nothing can ever repair the crack he left in her heart. The mistake of betraying her ended their love for good, but now that she is back he refuses to let her go.
​
Kim Kimberley as Tan Ying Prataneeda Ghitisakyotin (Nee)​
Nee is Pat's younger sister and Grit's former girlfriend. She flew far across the vast ocean when he betrayed her heart by getting engaged to another woman. She thought a 2 years away would heal her heart, but the further away she was, the more she hurt. Ying Nee returns to Thailand in hopes of facing her biggest fears, and that is facing the man she once love. She believes if she is able to face him without feeling anything her nightmares will finally end. Upon her return she finds a more aggressive and protective man. He is willing to do everything to keep her within grasp. Will the man she tried so hard to forget, once again be the bearer of her heart?​



​
Last edited: