Ok, since Angel is going to end pretty soon .. I might as well start off with this one. Enjoy~
--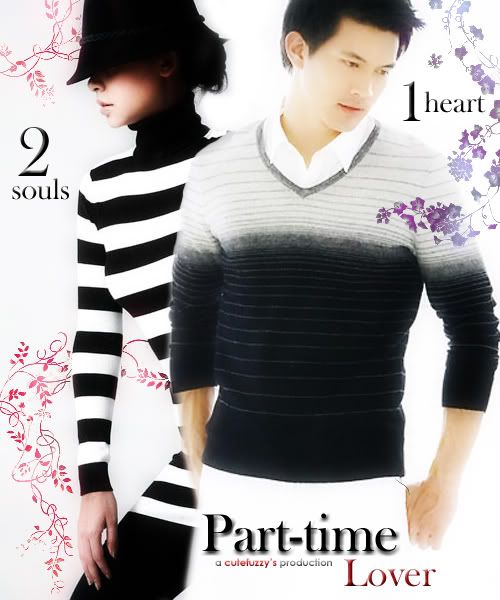 --
​

[ Chapter 1 ]


In a low-cost apartment, live a pretty well-known playboy -- Ken Theeradeth. This man can't be labelled poor nor rich, maybe slightly above average. Then, why is he living in an old rusty room again? Good question. Ken loves to work hard and play even harder. Clubbing is his life, women is his needs. There's where all of his monthly salary is often donated too. Yes, he's a man with such big heart; he loves sharing his love to all of his girlfriends. Up-to-date, he's currently dating 6 women at the same time. How convenient. A man with such good looks and charming aura, it is no wonder that even the gay community idolizes him.

Funny?

He find it rather, scary.

So, what do a guy like him do during his free time? He try serching for more women in the internet! How interesting. Ken was nicely surfing the net while slurping down his curry-flavoured instant noodles, when suddenly -- something caught his attention. It was a homepage of a woman, entitled - Vickilicious - very sexy, he thought to himself. He scrolled down further and saw her bulletin board.



- Guys .. real guys .. click here. -​


He clicked of course. This woman is getting more and more interesting in his eyes, he even stopped eating. He placed the noodle at the right side of the table and glued his eyes on the laptop's LCD screen. The message stated:




Guys, regardless whether you're rich or poor - I don't freaking care. I'm tired of love and I hereby declare that men are just useless creatures! You lie, cheat .. you people are morons! I dare any guys out there who wants to prove me wrong .. although I doubt any of you would be able to impress me .. haha! Dumb ass .. but still, if you think you're capable .. add my msn .. we can have some hot discussion .. see ya, bastards! ​


He's truly impressed. Not only is she sexy in her own way, she's one vicious beast. This is one challenge he can never miss! He quickly added her into his msn and waited patiently to be approved. It was not long until his wish was finally granted. What is there to wait? Chat!


virgin_boy: NUDGE!
virgin_boy: Hello .. :huh:
Vicky_bitch: who r u?
virgin_boy: i'm a man

Vicky_bitch: Oh .. shuddup .. that's lame ..
virgin_boy: fine .. fine .. I'm Ken ..
Vicky_bitch: So KEN .. wat do u want frm me? I don't provide service to un-virgin you

virgin_boy: wells, not to wry really .. i'm not even a virgin anymore .. bitch ..
Vicky_bitch: haha .. now you're talkin my language! So I'm guessing .. erm .. you found my msn frm my webbie?
virgin_boy: Yeps.
Vicky_bitch: and??
virgin_boy: I'm accepting your challenge

Vicky_bitch: Oh really?? COOL! Finally, my first contestant!
virgin_boy: What? You mean I'm the first??
Vicky_bitch: Yup. ok anyways, i gtg. Let's meet tomorrow at Coffee Beans, 2pm .. ks?
virgin_boy: That's fine with me

Vicky_bitch: ok then .. can't wait to meet ya .. boy.
virgin_boy: same here .. see ya bitch!


Ken closed the window and smiled as if he'd already won the battle. He thought that his years from being a playboy would certainly win him this challenge. Think again, he might be wrong. Vicky, she's certainly not the girl-next-door material. Easier said, this might just be the right woman for Ken afterall.
--
Other posters:
BAU