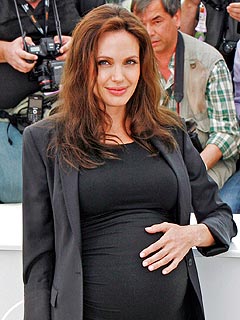 By Stephen M. Silverman @ people.com
Originally posted Tuesday July 01, 2008 03:40 PM EDT
Angelina Jolie has checked into a hospital in the South of France in anticipation of giving birth to twins, the Associated Press reports.
"There's no urgency," hospital representative Nadine Bauer tells the AP. "[Jolie's admittance has] been planned for a long time."
Bauer added, "She's very well. Everything is fine."
Jolie and Brad Pitt are expecting their fifth and sixth children. The clan currently consists of Maddox, 6, Pax, 4, Zahara, 3, and Shiloh, 2.
In May, Jolie, 33, said on the Today show, "Unlike most women, I love being pregnant. [It makes] you feel more like a woman than you've ever felt. You just feel like everything about your body is there for your baby."
As for the babies' first home, Jolie and Pitt recently signed a three-year lease on an estate in the French Riviera.
I'M SUPER EXCITE FOR THE PAIR. CAN'T WAIT TO SEE THE NEW PICTURES :wub: