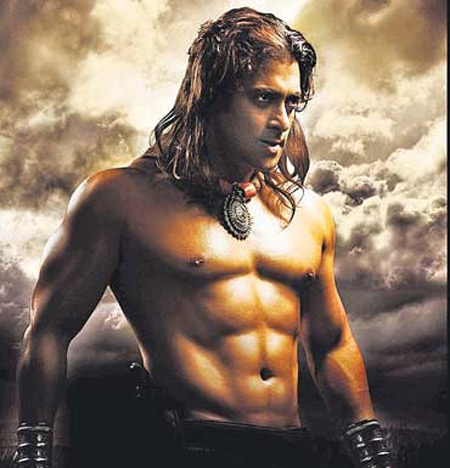 Official Link: http://veer.erosentertainment.com/
The movie was really good. It's basically about two clans of people where one was betrayed by the other and then time fast forwards twenty some years later. It takes place in the 1880's where the British people invaded India. There's a lot of things going on in this movie from the two clans fighting, rebelling against the British, and of course LOVE!
Salman Khan plays the warrior that rebels against the British and his clan enemy. He plays the role very well and his tone body is so droolable! He's has a soft side for the heroine and then his barbaric side for the enemy. When he gets all haughty and barbaric, he does ooze an aura of menace that adds to the character.
Zarine Khan plays the Crown Princess and Salman's love interest. Their love story is a typical love story of two people coming together even against family will. What made me like this love story was that she ends up leaving him to not betray her family and country. He comes after her, infiltrates her palace, and has this method of winning her hand. She's stubborn and doesn't give in because she's the Crown Princess. She's so pretty as well and very elegant.
There are some other actors in here like Jackie Shroff and he plays his role good as always.

This is a movie where ancient warriors and modern world collide!
This is a must see movie!
The ending is not what you will expect!
The songs are very good and beautiful as well. Everything is so well put together and colorful. Every scene in the movie has great colorful images that seem to jump out of the screen.
Extras:
http://www.youtube.com/watch?v=CXc2EPgqgqs
http://www.youtube.com/watch?v=3ZsHGv9Zfd0
Trailer: http://www.youtube.com/watch?v=DkWrDR48GO8