Song Kram
Nang Fah
(Battle Of The
Angel's
)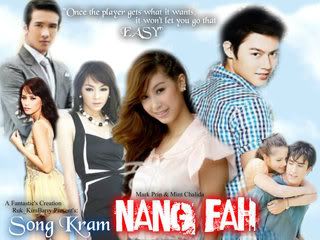 Thx's fantastic for the wonderful Poster. I know I PM u like 2-3 time's was i bugging you,Sorry, I wanted a poster so i can write the ff. Hope i wasn't making u mad.
Character's
Mark Prin
-He's a BIG TIME PLAYER, he flirts with every flight attendant, He is a pilot man. He has a good Job and LIFE is perfect, but his sister and mother is always giving him lectures. He then falls for a girl name Mint.
Mint Chalida
-She is a sweetheart, she is very polite, Everybody likes her. She's a new worker as a flight attendant. She then meet a pilot driver name James. But things turn bad when she meet's Mark, the BIG TIME PLAYER.
James Ma
-James Ma is a wonderful man who never really fall's in love, he has a fiancé name Margie, but wants to break the engagement since they don't love each other anymore. He then meets Mint. And soon to fall in love again.
Bee Namthip
-Her boyfriend is Mark, Her best friend is Nit and Mint. She is also a flight attendant. Until she found out Mark was falling in love with Mint and blamed everything on Mint and lost her job.
Pei Panward
-She was also a new flight attendant 2 years later. Mark then sees her beauty as Mark starts to flirt with her. She also loved Mark that she could do EVERYTHING for him. But she is sometime self-centered. And if she can't have Mark, no one can't.
Nadech Kugimiya
-A close friend of Mark. He is a pilot Man to. He falls for a bickering girl name Yaya. 
Yaya Urassaya
-Yaya was a farm girl, she loved her life as a country girl. But when she goes to study more farming in Bangkok she meets the bickering pilot man Nadech.
Ice Apissada
-She is a DRAMA QUEEN, she is also a flight attendant, her brother is Mark, every attendant girl Mark date is always making her mad cause she hates all of them besides her friends.
Nithichai (Nit for short)
-Nit is best friend's with Mint and Bee. He is always the supporter and a pretty boy. But everyone still loved him.