My first FANFIC and its already out of hands. The actors/actresses I use were originally chosen by me before i even had a story. This is for entertainment only. Not to criticize an actor/actress. You are more than welcome to make suggestion to the story i write and correct me wherever i may be wrong
PS.IGNORE THE ACTORS I CHOSE IF YOU DISLIKE THEM.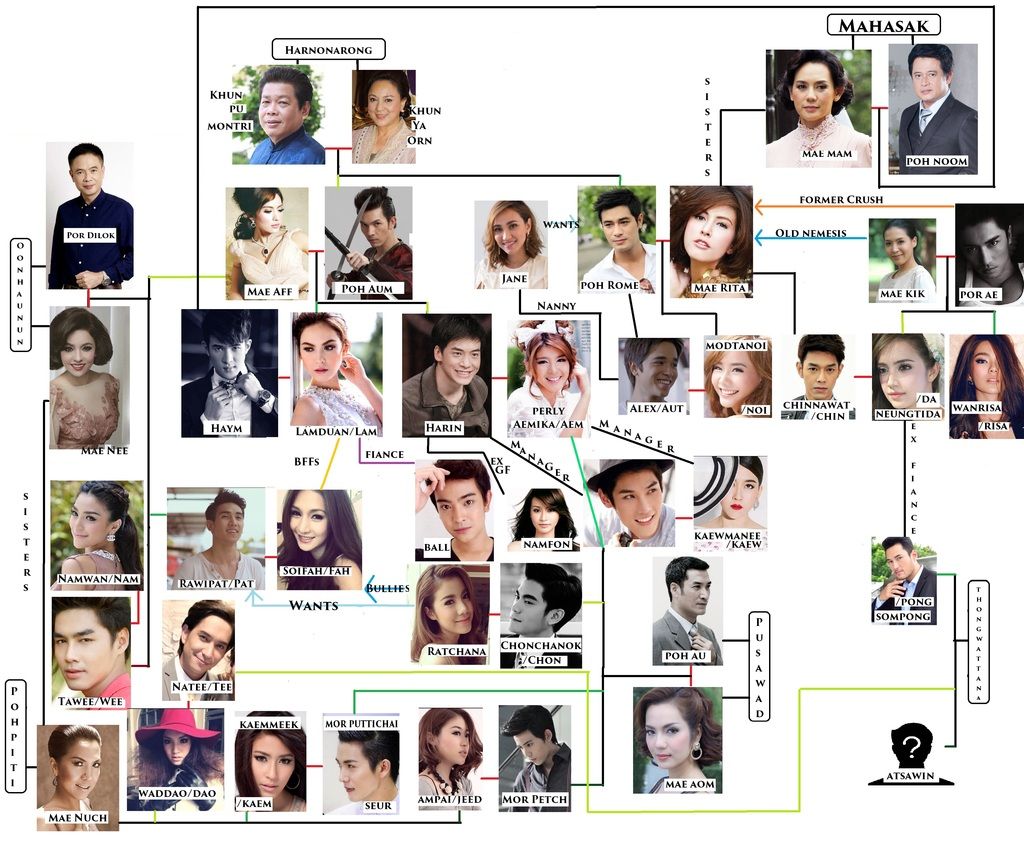 Prologue
25 years ago  
In Baan Harnronnarong , Khun Montri and Khun Orn are celebrating the birth of Khun Hiran, the first newborn of their first child, 24 year old Khun Aum. Lurking in the background stood Aums younger brother, 22 years old Khun Rome, and his same age dara gf Rita Jenson waiting to greet the new grandparents as they also have some exciting news to deliver. Khun Aums wife, Aff, and her side of the family, Poh Dilok, Mae Nee, 5 year old Rawipat (Pat), and 3 year old Tawee (Wee) are dining happily together at the grand dining room.  Seeing Rome so eager, Pat walks up to the couple and wai them. In respect, they return the gesture. 
Pat
: P Rome and P Rita khap, have you guys seen our laan chai Nong Hiran yet? Poh Dilok said he looks exactly like me when I was born. *the couple exchange cutesy chuckles
Pat:
PRita khap! *grabs Ritas hands causing her to stumble* P Rita khap, come see
Rome:
N Pat take it easy you dont want to ruin our little surprise.  
Pat:
Oh Im sorry P Rita khap. I didnt mean to startle you.  You have a surprise?! *dragging Rita deeper into the dining room* Please tell me. I wont tell anyone! Not even Nong Hiran. Sunya na khap! Please please please!
Mae Nee
: Loohk why are you yelling so much? Mai mee maraya na. Nong Hiran is sleeping right now so we have to keep it down. *turns to see who Pat was conversing with*Oh sawadeeja Khun Rome and Khun Rita. How are you guys? Khun Rome you missed Hirans first sneeze. Narak jang leuy. Khun Rita ja please go have a seat.
Rita:
khob khun na ka Pa Nee.
Mae Nee:
Ouii Mai tong khob khun and please call me Mae Nee like everyone else. *Rita looks to Rome only to see him smile back at her*
Rita:
urrrahem.dai ka Mae Nee. *pulling back into reality, RTeam realize the entire room was now quiet.*
RTeam:
Sawadeeka took khun. *Those who had always showed support or were neutral greeted back but two of Romes most important people showed little acknowledgement*
Poh Montri:
Rome. Why did you bring this girl into our home? What did I tell you before? You can date her but never bring her into Baan Harnronnarong. Did you bring her here so you can beg me to let you guys marry each other?? *pacing back&forth* Rome, if you still want me to consider you as my son then please show this woman out.
Rome:
Hold on Khun Poh khap. I want to announce something.
Mae Orn:
About what? Huh?
Rome:
*takes Ritas hand and the both of them got on their knees* I have something to say dad.
Poh Montri:
Say it quickly and take her away.
Poh Dilok:
Khun Montri take it easy. Nee take everyone out. Only those that matter stay. *Aff gives a small smile to Rita and Aum pats Rome on the back before leaving the room with their in-laws*
Poh Montri:
Alright. So what is it that you so want your mother and I to hear from you guys? *As Ritas hands rested in her laps, Rome puts an arm around her and covers her hand with his other hand.*
Rome:
Poh khap..Mae khapwere pregnant and we would like your blessings.
Mae Orn:
ARAI NA??!!  *Montri pushes the silverware on the dining table onto the ground.*
Poh Montri
: what did you just say?!
Mae Orn:
YOU!! *pointing at Rita* YOU WANT TO MARRY ROME SOO MUCH THAT YOU HAD TO GET PREGNANT?! YOU SLUT! WHAT IS IT? OUR MONEY?!
Poh Montri:
*calmly* how do we know the child is of Harnronnarong blood? *Rita looks up with tears in her eyes. Mae Orn turns to position herself in a chair*
Rome:
Poh how can you say that to Rita? Shes not that type of person! This baby is mine and Im going to raise the child with Rita as a family whether you agree to it or not! *pulls Rita up only to have Montri step in front of them*
Poh Montri:
Rome, wake up from this stupid dream youre having. Do you think youre the only one she slept with?
Rome: *
shaking his head in disbelief* Were both faithful to each other and we love each other so why dont you just accept us altogether?!
Poh Montri:
Wait here. *leaves the dining roomRita buries her head into Romes chestMontri brings back a folder in his hands and throws it at RTeam.* Nee. This is proof that you werent the only one. *searching through the folder there were time stamped with pictures of several guys she was found with at a specific hotelRome looks at Rita as Ritas eyes widened in fear*
Rome:
Rita? What is this? Who are these people and what were you doing with them?
Rita:
*shaking her head* its not what it looks like!
Rome:
What do you mean? Explain it to me then! Why were you with them on all these nights huh?
Rita:
*grabbing Romes arms* Listen to me na, Chun kho tua. Im sorry but I cant tell you!
Rome:
what is the meaning of this? You want me to take responsibility of you when you dont even dare share any information on what is shown in these pictures? How am I supposed to believe this child is mine and that you love me? *starts crying* Ritarak chun? Right?
Rita:
*sniffling* Rak mak ka. I really cant tell you for real.  
Rome:
*holds her face and wipes away her tears* Please I beg you. Tell me why you were there.
Rita:
if you love me and trust me, then please dont ask anymore question regarding this matter.
Rome:
*looks through the last batch of pictures one more time and stops on the last three.* Why were you with Ae Leewanich til 2 in the morning? *Clenching the pictures in his fist he slides them to her* Didnt you say you guys were just PeeNong?! These show you guys entering and leaving the hotel. And this one*sliding the last one* shows him carrying you back into the hotel? What is this? PeeNong in disguise like what all those daras say.
Rita:
*fastbreathing*Rome Rome Rome. Lets go see PAe right now and hell explain everything to you.
Mae Orn:
STOP IT LIAR! Rome are you listening to this womans lies? Listen to mae na. Not once have I ever lied to you and this woman has lied to you countless times and refuses to give you a straight answer. Theres no way Im willing to let you bring an untruthful person to be our DIL! MAI ME WAN!
Rome: *
wiping the last of his tears* Rita, Ill walk you out and then ill have the driver take you home. *gets up and leaves a crying Rita*
Poh Montri:
*smirks* I told you already that I would not accept a woman who is up to no good. But then again, you are probably up to no good since you dont have any elders to teach you.
Mae Orn:
Your way of thinking is low. Want to be a part of the Harnronnarong? Dream on.  
By the team Rita met Rome on the front porch, everyone else was already gathering around Rome. Aum was still hugging his younger brother as he gave her the death stare.  Aff puts his hand on Aums shoulder and whispers in both the brothers ears, If you cant do a proper sendoff then I will. Aum pulls onto Aff and gently nodding to Rome. The Oonhaunun Family ushered inside as Rome led Rita to the car.  Rome, we cant end like this. If only you would let me take you to see PAe. Its for the best. I cant live another minute thinking my woman is with another man once Ive left her bed, said Rome. You disgust me. Leave this instant and never let me see you face again Sririta Jenson. Choking back the tears, Rita nodded her head and got into the car and never once looked back. She decided right then and there, she does not need a man to help her raise her child.  
Two weeks later, Rome left for America and Rita asked to be demoted to supporting role because each day her fetus was getting bigger and harder for her to hide the fact that she was pregnant out of wedlock. Noom and Mam Mahasak were Ritas sister and BIL and were one of Thailands richest couple. When they heard about the Harnronnarong ill-treatment, they withdrew their investment and cut all ties with the Harnronnarong family. Hatred between the two families of this generation grew deep through court battles that will cause the next generation more pain. Will intertwined love be able to save them before it is too late?  
I'd like some name recommendation since I'm missing one for one of the p'eks. Suggestions please!